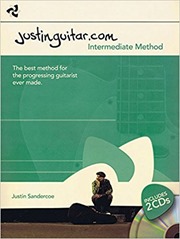 It is possibly inevitable that my guitar playing has leaked into my book reviewing, or that time I should have spent practicing has gone into reading books, or buying gadgets. So far I have been well-behaved on the guitar buying front, my guitar count is still at one.
However, I have bought a Boss Katana 50 amplifier which counts as saving money since it simulates other amplifiers! As well as 5 amplifier models it allows for 3 effects to be chained together to such as reverb, chorus and overdrive. Justinguitar.com has a whole section on the amplifier (link), this includes downloadable settings which if you're playing correctly will give you the same tone as Justin and the original track. Any differences in sound will be down to your skill.
But back to the next book, justinguitar.com Intermediate Method by Justin Sandercoe is the follow up to the Beginner's Course I reviewed previously. I reviewed the Beginner's Method when I'd worked most of my way through it, this one I'm reviewing after just reading it and trying out a few of the new things.
The Intermediate Course contains five stages in contrast to the nine in the beginners stage, it finishes with a section on different improvisation styles including jazz and fingerstyle playing. The stages tend to develop ideas in previous stages rather than each stage representing a new area. Four months after I started playing it is probably a bit soon for me to be working seriously on this course, although I have a good memory for chord shapes and the minor pentatonic scale my playing is really slow which I think will only be fixed by practice. I could do with learning some more songs too. Justin pitches this very much as an optional course, the Beginner' Course should leave you competent to play a wide range of tunes.
Barre chords were introduced towards the end of the Beginner's Course, in this course they are expanded and developed further — indeed barre chords are the main chord work of the book. The beginner's course just looked at the Major E-shape barre-chord, here we meet the variants of the E-shape (minor, dominant 7th and minor 7th), as well as other shapes (the A-shape and the diminished/half-diminished). One of my achievements playing guitar is a fairly good barre –gained by practicing bits of Creep by Radiohead excessively – it isn't yet entirely useful since I can't change very quickly.There are still some of the one minute chord change exercises which I found really useful in the beginner course.
A new feature of this course is an introduction to standard musical notation. TAB notation works very well for guitarists since it tells you where to put your fingers but it doesn't provide a visible sign of the rise and fall of a melody also other musicians don't speak TAB.
The beginner's course introduced the minor pentatonic scale, here we learn the major scale, the blues scale and a hybrid scale. The importance of scales is that they provide a basis for improvisation.
The intermediate course also covers some more advanced techniques including note bending and hammer on/flick off. This is handy because any cursory glance at guitar tutorials on YouTube will show tutors using these techniques fairly casually. As for the beginners book, Intermediate Course works best in combination with the video tutorials on the justinguitar.com website (which are free). I read the Blues material but the website pulls it together more clearly than the book and certain technical skills are very hard to learn off a page. nI particular the online course talks very clearly about using licks (short runs of individual notes) as "words" in a Blues language.
Alongside the course books there are also Songbooks, I have the Beginners Songbook and the Rock Songbook. These complete the online videos well, provided a record of chords and TABs for what can be complex songs.
I should probably review my "learning journey" at this point, I think the way forward here is to pick a few songs and learn them properly, maybe making a recording. Ideally these should focus on improving particular skills. So far I've learned riffs from a few songs – Seven Nation Army, Smoke on the Water, Teenage Kicks, Creep but not really the whole thing. The only exceptions to this are Link Wray's Rumble, which is pretty simple and I've been practicing a 12-bar blues which varies from the version Justin teaches with an intro and an "outro".
Although I'm not ready to work through this book systematically I'm glad I got it now.