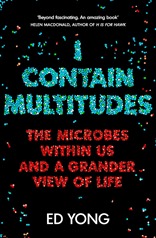 This book was a Christmas gift, for which I'm very grateful! I Contain Multitudes: The Microbes within us and a Grander View of Life by Ed Yong is all about bacteria.
Bacteria are somewhat neglected in the popular science literature, I think the closest I can come is The Eighth Day of Creation by Maurice Freeland Judson which is about the discovery of DNA and its role in molecular biology in which bacteria and viruses play a part.
Yong's book is about the relationship between bacteria and other organisms, humans included. It reveals a world where bacteria are not simply passengers on oblivious hosts but are a heavily integrated part of the host's life cycle.
The study of the "microbiome" is relatively recent. Unravelling the members of a microbial community prior to the invention of cheap, and easy, DNA sequencing was hard. Carl Woese pioneered this approach in the 1970s, and used it discover the archea, a whole knew Kingdom of life (plants and animals are two of the other Kingdoms, to give you and idea of the magnitude of this discovery). Sequencing of the bacterial inhabitants of humans gained pace in the 2000s when it was discovered that we all carry a rich community of bacteria which varies from site to site around the body, let alone from individual to individual. What is true for humans is true for other organisms.
The book continues with an overview of how important bacteria can be to an organisms life. For example choanoflagellates, typically single-celled organisms, only form colonies in the presence of certain bacteria. And bobtail squid rely on bacterial partners to provide their luminescence. The standard lab animals (mice, zebrafish, flies) have been raised in germ-free environments and whilst they do not die, they do not flourish – even in the comfortable environment of the lab. The Wolbachia bacteria interferes with the sex lives of its insect hosts, it is only passed down via the eggs of the female and so it arranges by various means that there are more eggs and females than sperm.
These partnerships are not accidental, in the sense that organisms often provide specific structures to support their bacterial partners and exchange specific molecular markers with them. In some cases the host is essential to the survival of bacteria it contains because they have given up on carrying out tasks essential to their continued existence, for example in the supply of essential nutrients. This is true on many scales, animals from termites to cows have digestive systems designed to accommodate a particular bacterial support team to enable them to digest what would otherwise be food of low nutritional value. The early years of a human infants life are shaped by its acquisition of the right microbiome to prime the immune system and aid digestion.
The reason that bacteria are so effective in providing support services to their hosts is their high rate of evolution. Not only do they replicate fast, they have a promiscuous approach to DNA they come across in their environment. This means that if any bacterial species evolves a useful trait, such as the ability to digest seaweed then its neighbours in the gut can pick up that ability via its DNA. These genes can, eventually, end up in the genome of their hosts.
Japanese people who eat nori seaweed, which contains carbohydrates which the human body can't digest on its own, host bacteria which can. Moreover, the genes those bacteria use to carry out this digestion were acquired from marine bacteria.
Yong is not misty-eyed about his bacterial subjects, as he points out their symbiosis with other organisms is not altogether harmonious – in the end the bacteria are in it for themselves.
The book finishes with some examples of how bacteria can be used to support human health, and speculates how this approach – currently only used in curing persistent C. difficile infections – could be extended to all manner of ailments including blood pressure and mental health problems.
I've been following Ed Yong on twitter for quite a while, and where he found the time to write a book as well as everything else he seems to do is a mystery to me! his style, as a science journalist, can be seen in the book, both in the presentation of the story, with brief character sketches of the scientists involved and quotes from them, and in the titles of the chapters which are entertaining but not necessarily informative. The book is thick with examples which build into larger themes, turn to the back of the book and you'll find references to the primary literature.
Bacteria deserve our attention, this book is a great introduction to how they shape the lives of "higher" organisms.